Come along as I travel the world sourcing goods for my store, dig in while we renovate our 1930's rambling hacienda, watch out as our three young kids traipse through the tale...
Sunday, December 18, 2011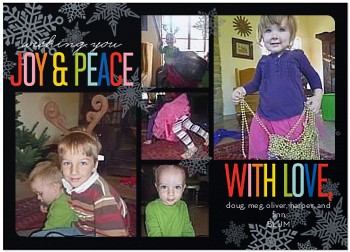 Colorful Joy Christmas Card

Wednesday, December 7, 2011
I am feeling a bit nostalgic today - starting to do our annual Shutterfly album for the grandparents, looking through the year in pictures... The incredible baby-ness of our twins, the still round-faced sweetness of our then 5 year old, has me reeling as I look back on shots of them from a year ago - but house-obsessed as I am, these shots of our old home taken January 2010 have me feeling almost as wistful...
While I love our new place - and it will indeed be the house of my dreams someday, our home of 9 years back on 27th Pl had achieved the kind of us-ness that can't be conjured up in the few months we've been here. I long for that Viking stove too, dammit! Anyway -- I need a place to be able to see these shots all together too as we have some new clients doing a more Moroccan themed house and some of our old rooms seem right for them.
The master bath below - Moroccan tile.
The guest house Doug built.